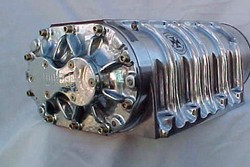 RBS Superchargers is a business that was born out of our love for racing. RBS has years and years of experience to help the first time beginner to the seasoned veteran produce the most power and reliability on their supercharged engine.
RBS stocks a large supply of high quality supercharger parts and components, new & used to meet everyone's budget. All parts are available to purchase online. RBS is the worlds leading supercharged mail order superstore.  
RBS is a stocking distributor for XRP,  Fowler,  BAE,  Manton,  GRP,  Dunn Services,  Automan, KJ Crawford,  MSD,  Flat Out Gaskets,  RCD Engineering,  Olson,  Enderle Fuel Injection,  DMPE Inc., Littlefield,  The Blower Shop,  BDS,  Waterman,  Hilborn Fuel Injection,  System 1,  Taylor Motorsports,  JBR,  Rage Fuel Systems,  JE Pistons,  DJ Safety ,  SAE,  SCE Gaskets,  NGK,  PSI,  ACE Clutches,  Fuel Injection Enterprises,  Billet Connection,  Mallory,  R&R,  Manley,  Venolia Pistons,  Donovan,  Cunningham Machine,  Stroud Safety
RBS stocks a large line of supercharged engine components and works closely with other manufacturers to ensure that you, the customer, get the highest quality parts at a fair price with services that will keep you setting low E.T. and winning races.

RBS can help you with superchargers or top quality replacement parts and don't forget...we offer used superchargers as well as used supercharger components.
At RBS we don't just consider you as a customer, we consider you a friend and a member of our extended family in the racing community.
RBS looks forward to years of growth and many new and exciting products to help make your racing endeavor more successful and fulfilling.
So remember, whether you are dreaming of a shiny blower on your street rod, blasting across the water in your lake rocket, shooting rooster tails of sand or mud, or getting ready to make a full assault on the pavement, RBS will help put you in the winner's circle.